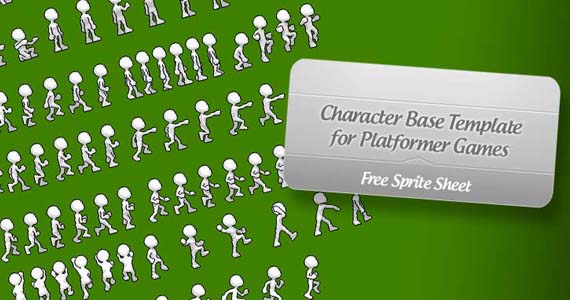 Chumbuckets has made a very nice, and complete sprite templates, that's one of the best contribution anyone could make for the community. We want Game Maker games to have good graphics… so here is my contribution. These are animated sprite sheets templates, I originally had plans on making from it a sprite generator program (all with clothings, hairstyles, skin color, etc.) but I didn't have much time and enough contributors. So use this as another resource aside from Chumbuckets.
(note: this image is just a preview)
I really don't require that you give me credits (Although I'll appreciate if you do), just finish a game with it. That's all I could ask.
But mainly, I want beginners of GM to use these template as a means of placeholder sprites through their GameMaker learnings, it's really a heart breaking to see a new comer give up on his game developing venture just because he/she has no animated sprites to use (other than those blocks, spheres, and stock sprites that came with GM).
Eventhough I'm currently working on my RPG, you can still suggest another animations you want to be added here, I'll make them if I have free time.
---
Update as of July 8, 2014
– Added 4 animations (3 weapon wield attacks and pushing)
– Included is a .GMZ file so you can see some of the sprites in action using GM:Studio
---
Update as of November 11, 2015
– Added 5 animations (details)
---
Notes on the GMZ demo:
arrow left/right : move left/right
arrow down : crouch (crawls when moving)
space key : to see the attack animations
numpad0 : to jump
numpad+ : stride
numpad- : walk